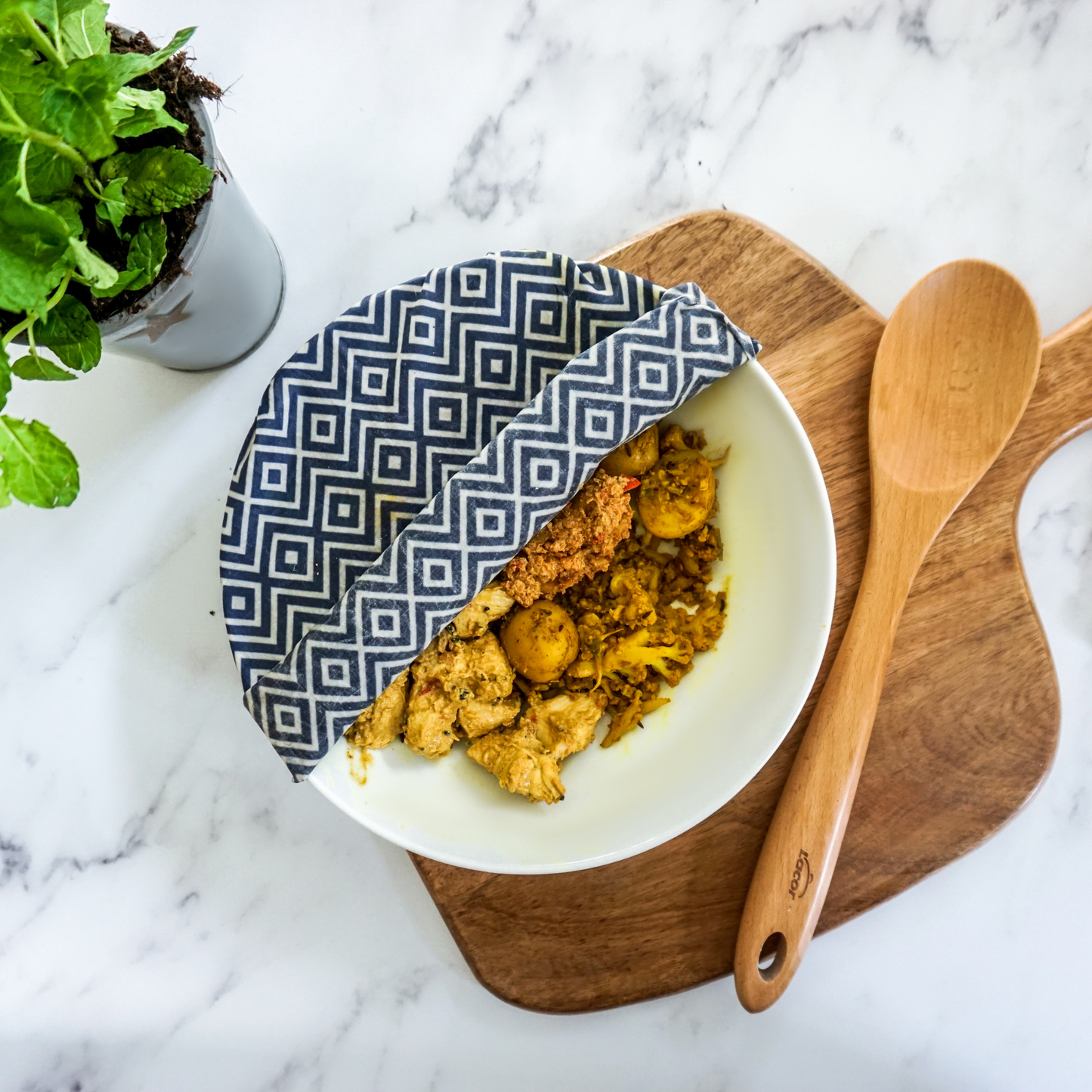 What can I replace cling film with?
Why it's time to ditch cling film
Around 1.2 billion metres of cling film are used across the UK each year (Keep Britain Tidy).   Not only that, cling film is...
Made from polyethylene plastic - a fossil fuel derived product
Typically used once and then thrown away
Can leach harmful chemicals into food
Difficult to recycle and never biodegrades
Often ends up in landfill, contributing towards pollution
In the UK, 1,726 tonnes of plastic film packaging like cling wrap ends up as rubbish each year. Time for a change!
Let's dive in to see what the best alternatives are...
Eco-friendly food storage alternatives
Thankfully, plastic-free alternatives exist that make reducing cling wrap use easy:
Reusable silicone freezer bags
Airtight seal keeps food fresh
Endlessly reusable
Multi-purpose - think freezer / microwave / oven
Easy to handle, store, and clean - Dishwasher safe
Transparent designs allow you to see contents
Moonmoon has reusable silicone bags in a range of sizes and colours to suit a variety of food storage needs.
Beeswax wraps
We think beeswax wraps are the bees knees!  Not only do they look much more beautiful than cling film, they are entirely plastic free.  These washable cotton wraps coated in beeswax create a tight seal around your bowls or food.  Simply activate using the heat from rolling them in your hands.
Natural antibacterial properties help preserve foods
Seal tightly around breads, veggies, cheese
Compostable at end of life or use as a natural firelighter
Moonmoon's organic cotton beeswax wraps come in a pack containing 3 sizes (small, medium and large), in vibrant, modern designs.
Stainless steel containers
Good old stainless steel really is as robust as it looks!  By choosing steel food storage containers you can again reduce your need for cling film
Completely plastic-free
Durable, reusable, and endlessly recyclable
Great for storing leftovers and meal prepping
Range of sizes with airtight locking lids
Moonmoon has an assortment of stainless steel lunchboxes and accessories to keep your food fresh.
You could also try using old takeaway containers or glass jars to help keep your food fresher for longer.
Saying 'Goodbye' to Cling Film
First, use up any existing cling film, then refuse to buy more
See what alternative options for food storage you already have 
Possibly try alternatives such as reusable silicone bags for your leftovers
Use beeswax wraps for covering bowls and produce
Invest in some glass or stainless steel containers for fridge and pantry storage if needed 
With some easy food storage swaps, you'll cut down on needless plastic waste.  With Moonmoon products like silicone bags, beeswax wraps, and stainless steel containers, going plastic-free is easy. These simple swaps will kill the habit of reaching for the roll of cling film
It's currently estimated that 79% of plastic waste products end up in landfill sites or the ocean.  So this may just be the start of a broader change to cut down on your single use plastic consumption.